Advertising In Columbus Parent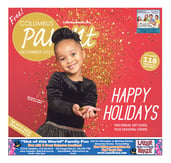 Columbus Parent magazine is distributed monthly to locations across central Ohio. It is the go-to guide for central Ohio parents and grandparents. More than 56,000 people turn to Columbus Parent
for local events and resources, new products, advice and activities. Columbus Parent Magazine is dedicated to providing content
that makes life easier for parents.
No job is more difficult. No job is more rewarding. Columbus Parent knows this, and is dedicated to providing content that makes life easier. This means everything from reviews of local playgrounds and the latest baby products, to activities and advice. Columbus Parent also delivers stories on the trends and issues facing children and families, features on local personalities and other articles designed to help make parents more informed.
Advertisers love Columbus Parent for the results it delivers for their business. If you are looking to reach adults with children throughout the Columbus Market Columbus Parent is the best way to do it.
SOURCE: Scarborough Columbus OH 2013 Release 2 &-2012 Release 2 (Oct. 2011 – Sept. 2013)
Advertiser Testimonials
"With valuable content and inviting design, Columbus Parent Magazine has been, and continues to be, our number one resource for reaching our customers. With fresh and informative content, Columbus Parent manages to stay on the leading edge of what's important to its readers."
Jay Turner Owner, ATA Black Belt Academy, Inc.

"I have found Columbus Parent to be a great advertising voice for my pediatric practice. Columbus Parent is found where families are and this is what makes it an effective marketing tool for the practice. Parents look to Columbus Parent for guidance on sports, education and health care. Positioning WholeKids advertising in this paper has generated visits to our website which in turn has translated to families becoming patients of the practice. I intend to continue the association with Columbus Parent for the foreseeable future."
Dr. Dhanu Sant Owner, WholeKids Pediatrics