Advertising In Columbus Parent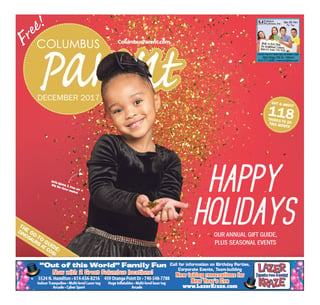 Columbus Parent distributes more than 42,000 copies at 1,000 locations throughout Central Ohio each month, with a 93 percent pickup rate and a total readership of 46,605.
Available Opportunities
In addition to traditional print advertising, Columbus Parent can deliver your message to our highly engaged, family-focused readership through advertising on ColumbusParent.com, in The Bulletin weekly e-newsletter, sponsored content opportunities, and sponsor and exhibitor spaces.
We host two annual events, the Camp & Activities Expo and the Back to School Expo, in partnership with ThisWeek Community News.
Audience Profile
Average Income: $67,360
Homeowners: 46%
Average Home Value: $259,590
Average Age: 48
SOURCE: Scarborough Columbus OH 2017 R2
Advertiser Testimonials
"With valuable content and inviting design, Columbus Parent Magazine has been, and continues to be, our number one resource for reaching our customers. With fresh and informative content, Columbus Parent manages to stay on the leading edge of what's important to its readers."
Jay Turner Owner, ATA Black Belt Academy, Inc.

"I have found Columbus Parent to be a great advertising voice for my pediatric practice. Columbus Parent is found where families are and this is what makes it an effective marketing tool for the practice. Parents look to Columbus Parent for guidance on sports, education and health care. Positioning WholeKids advertising in this paper has generated visits to our website which in turn has translated to families becoming patients of the practice. I intend to continue the association with Columbus Parent for the foreseeable future."
Dr. Dhanu Sant Owner, WholeKids Pediatrics