Dispatch Media Group Targeted Products
Print & Deliver Packages - Allow us to assist in developing your printed message and utilizing the correct delivery vehicle to reach maximum exposure. From postcards to 8.5" x 11" single sheet flyers to multi-page tabs to extended promotional pieces, we have the dedicated staff to create just the right message.
Kraft Wraps/TMC Wraps - These high impact full pages are available on Wednesday, Thursday, Friday and Sunday, serving as the wrap around the insert packages.
Savvy Shopper Midweek TMC - Reach desirable households that do not subscribe to the Wednesday Dispatch by placing your inserts into the Savvy Shopper Midweek TMC delivered with ThisWeek Community Newspapers.
Dispatch Notes - Put your message on page one of The Dispatch any day, with this high impact advertising solution.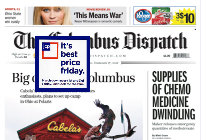 Targeted to desirable zip clusters on The Columbus Dispatch
Targeted by ThisWeek Community Newspaper on Thursday
Dispatch Pre-Print Targeting - Use preprinted advertising fliers or circulars inserted into the Wednesday,
Thursday, Friday and Sunday Dispatch to…
Target your customers by zip code in Franklin County- Target the ones you know are best for your business, or we can help you analyze the market.
Target desirable customers outside Franklin County by zip code clusters, designed from in-depth data modeling of consumer shopping, traffic, spending, and behavioral patterns.
Savvy Shopper Sunday Savings - Target your printed message to thousands of consumers who want to seeyour ads, as they have "opted in" to receive this weekly package. Targeted at the zip code level, this footprint mirrors our most highly circulated Sunday Dispatch zip codes.
TheBAG/Savvy Shopper - Reach the masses of 800,000+ homes delivered each Sunday. Reach a high percentage of central Ohio residences or narrow your target audience. Advertising options include on the outside of TheBAG, preprints in TheBAG, flyers that stick out of TheBAG, print & deliver options and even advertise in your own clear bag.
Deliver in combination with The Columbus Dispatch subscribers without duplication.
Target by zip code, radius, homes only, geography, demographics, expenditure data from Claritas**, block group targeting or use your client database.
Polybag - Wrap your ad around The Dispatch - using a custom- printed polybag, your message creates a big first impression with the
morning paper.
Targeted to match your needs
Target customers or top prospects efficiently and receive prominent positioning
Benefit from our strong products and brand recognition
Solo Direct - This highly visible program delivers your product directly to the front door.
This is a total turnkey production and delivery!
Address specific delivery at up to 50% of the cost of Direct Mail.
We offer a vast array of targeting methods, or use your own business database.
Direct Mail - This targeted solution allows you to reach your targeted audience by mail. Targeting options include household income, home value, dwelling type, children and more…
Product Sampling -
Have a small product to share? Let us deliver your magnets, key chains, and other small promotional items, targeted
by zip codes or block groups.

Savvy Shopper Deals - Target thousands of central Ohioans each month reading Savvy Shopper Deals to find local deals in their area. More than 500,000 of these coupon books are distributed once per month.

Subscriber Invoice Inserts
- Dispatch Subscriber Invoice Inserts are an inexpensive way to get your message
directly in front of our subscribers. Your message will be inserted into our subscriber's invoices and delivered directly to their home. Target your message based on the subscriber's frequency of delivery, zip code, or whether they are new or renewing customers.