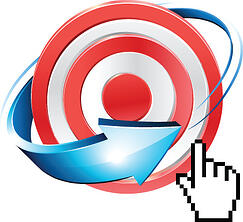 Your advertising reach campaigns may bring visitors to your site, but they don't always convert to customers. In fact, according to research from MarketingSherpa, conversion rates vary from 3 percent for retail sites to 10 percent for financial and professional service sites. Many people think this indicates a problem with the original campaign or message, but that may not be the case. It could be that the prospect simply wasn't ready to buy at that moment, but they may be in the future. You don't want to take a chance on losing the sale to a competitor so you need a way to stay top of mind with the target. The best way to do that is retargeting.
What is Retargeting?
Unless you're extremely lucky, most first time visitors don't convert to customers on their first visit. Retargeting is a way to bring them back to your site by engaging with them wherever they go across the web, with targeted offers or information about your company and products.
The term "retargeting" came about because the process serves new ads, offers or information to users who may have been initial targets of broader campaigns. Often, the ads more precisely pinpoint the user's interest by focusing on specific products that the user has shown an interest in. Retargeting ads are often less expensive than the initial ad, and they often display to a smaller audience because it is a subset of the original campaign list.
How Retargeting Works
Retargeting is an easy process to understand. If a user visits your site and does not convert, the retargeting engine places a display ad on the next site or sites they visit. The display ad may show the exact product they viewed on your site, your most popular products you sell or the contents of an abandoned cart. It may also show information targeted to any known demographic data, such as gender, age group or business size in the case of a B2B sale.
Retargeting works by placing a tracking pixel on your webpage, and visitors receive a cookie, which then follows the user and serves up your ads wherever they go. The system adds the users to your audience -- the universe of people who have shown an interest in your site. As the user visits other sites, the retargeting engine repeatedly shows ads with the purpose of driving a return visit to your site. The cost is generally lower and the results better than for general awareness campaigns.
Benefits of Retargeting
Retargeting offers high return visit rates, higher conversion rates than reach campaigns, and lower CPC and cost of sales. By allowing you to tailor retargeting ads to products that the user showed interest in or to specific demographic or niche targets, retargeting becomes more precise and more effective each time a user visits any website.
When Facebook introduced retargeting capabilities, research showed that users were more likely to return to a site to make a purchase after seeing retargeted ads. In fact, the return visit rate was 240 percent better, according to one Facebook partner, and users who viewed ads were 96 percent more likely to convert than people who didn't see ads but returned anyway.
Retargeting is an extremely effective way of converting prospects to customers. Sierra Trading Post enjoyed a 5-fold increase in its conversion rate along with twice its usual click through rate while testing Google AdWords' recently released retargeting functions. EMP Merchandising also noted that their cost of sales fell 30% using the pilot version. Clearly, retargeting is effective. Given results like these, every company should add retargeting campaigns to their marketing mix.
Talk to your Dispatch Digital specialist to learn more about how retargeting can help your business.