Google is at it again! Just when you thought you had all of your Google Ad campaigns up to date and optimized for maximum performance, Google giggles and says, "I appreciate your hard work and I will reward you with more ad space". Some might argue that it is more work, but Google just like Twitter, has found out that their limited number of characters has also limited the user experience. In 2016, Google increased ad sizes and saw a 20% increase in clicks. (SOURCE) Google is making a change again.
Here is what it is and what to do with it. Is it good or bad? Well let's find out!
Google added a third headline to its Google Ads(SOURCE)This is extremely exciting for all advertisers around. Advertisers now have a third line of copy to make ads more robust with information to really capture audience's attention.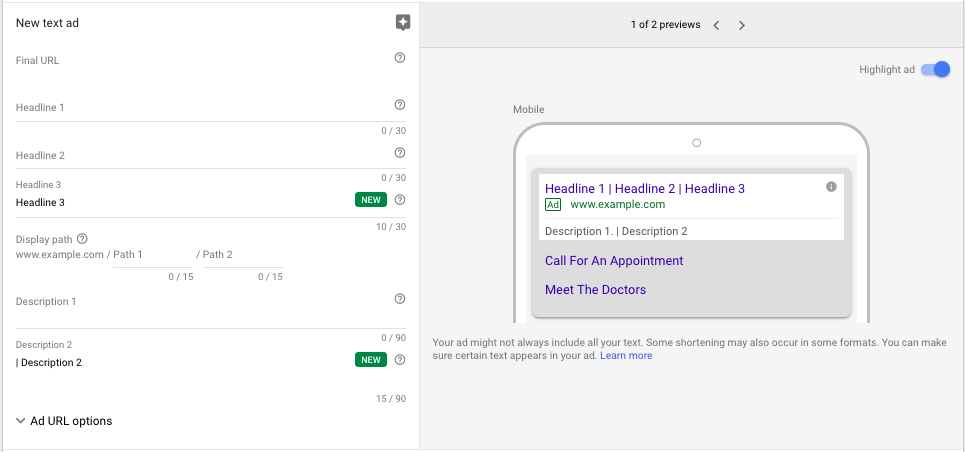 A third headline is not the only addition; there is also new space for a second description on your ads. The biggest takeaway is an increase of 130 more characters per ad, going from 170 characters to 300. (SOURCE)
Again, this allows advertisers to create better messaging, add more information, and take advantage of those call-to-actions that increase conversion rates.
What does this mean for "old" campaigns?
"Old" campaigns will continue to run the same as they were set up. Google will not stop showing them, nor penalize advertisers for them, at least for now. The biggest concern at the moment is that competitors might start using these new longer ads, which could start overshadowing advertiser running the old campaigns.
In terms of getting penalized by Google, just remember that Google's mission is user experiences and providing results. So, it is safe to assume that after some time, if this new format of longer ads creates a better user experience, advertisers will definitely see a drop in the performance of "old" ads.
Will my new ads with 3 headlines show up all the time?
No. This is something to really keep in mind, even though the third headline is there, it will not always show up. This is due to screen size and overall space in the Search Engine Results Pages (SERPs).
So, you might ask, how do advertisers use this third headline? Well, first, make sure that any important information on your ads is always on the first two headlines. Since this is new, use the third headline strategically for when it does show up.
Same thing with the second description, ensure that no important information gets lost, but when it does show up, take advantage of it. Use an additional unique selling point that differentiates you from the competition, maybe a second call to action. Whatever it is, do not miss out on this opportunity!
If you would like to read some additional information about Google's new Broad Core Algorithm and get ahead on your SEO strategy check out this post by Andrew Cottle.
Consulting with a trusted digital specialist can make this process easier for any business. Contact DMG+ThriveHive today to help you grow your business with a strategic digital approach.