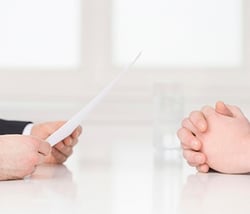 By: Catherine Conlan
For growing companies, fast growth can be exciting, but it also comes with risk. You don't have much time to agonize over every new hire.
And yet, bringing in the wrong people could send your growing company into a tailspin. You need to set realistic timelines and follow a hiring process, says Matt Doucette, director of global talent acquisition at Monster Worldwide.
Here's how to keep your hiring pipeline moving quickly when you need it most.
Know What You Need
Having a clear idea of what the new role entails and the needed competencies will be key to hiring quickly, Doucette says. Instead of focusing on the job description, identify some key metrics:
Define the mission of the role
Identify the objectives the role should achieve
Clarify these annually and quarterly
Determine what core skills are required to make that happen
This homework will give you a much clearer picture of what you're looking for in a new candidate, Doucette says. From a sourcing perspective, it will also help generate better information for keywords.
"When you know what you're looking for, it's easier to find," he says. In addition, advanced search technology such as Monster's Power Resume Search is built around semantic searches for synonyms of these competencies and objectives, creating richer results than simple Boolean searches for lists of job skills.
Don't Compromise on Values and Culture
Hiring someone who's a bad fit can be worse than not making a hire at all. The best way to avoid a bad hire is to align the process with your company's values.
"Hiring people with values that mirror your company's culture is crucial," says Laura Yip, co-founder and chief people officer at Storm8, a mobile game network based in Redwood Shores, California. If your company's success relies on its company culture, avoid risking it just to fill a position, she says.
Focusing on your company culture in the interview can also uncover the candidate's style of work. "At Storm8, we look for candidates who thrive in an entrepreneurial environment," Yip says. "If they require a ton of hand-holding, it probably isn't a good fit."
Interview in a Group
Having several people participate in one interview saves time -- it also can provide multiple perspectives to the same answer, says Scott Wintrip, founder of Wintrip Consulting Group in St. Petersburg, Florida, and author of the upcoming book, High Velocity Hiring: How to Hire Top Talent in an Instant.
"There are limits to our perception; you tend to miss things that aren't your expertise or are unexpected," he says. In a hiring environment, this can mean missing small cues that a candidate might not be the best choice if only one person is in on the interview.
In addition, panel interviews can help avert decisions based on emotion, Wintrip says. "The moment we become comfortable with a candidate, we stop asking some of the questions we had planned on," he says. "Group interviews aren't a new idea, but if you put four people in a room with the candidate, it can give you differing perspectives that can help you reach a faster, better decision."
Look Twice for Red Flags
If you're moving fast, you may be tempted to cut corners in your interview process. That can leave out important steps -- or worse, make you ignore a nagging feeling that something is a little off. When that happens, you're more likely to make the wrong choice.
"Do your reference checks and listen closely for concerns and red flags," says Mikaela Kiner, founder and CEO of UniquelyHR, an HR consultancy in Seattle. In the post-interview debriefing with other team members, spending a little extra time talking about why the person might not be a good hire. "Ask everyone to answer the question 'If this person doesn't work out, why would that happen?' " Kiner says.
For more information about Dispatch Media Group, or to contact a Recruitment Sales Executive, please click here and fill out the form.
Like what you've read? Sign up for our blog!
© 2016 — Monster Worldwide, Inc. All Rights Reserved. You may not copy, reproduce or distribute this article without the prior written permission of Monster Worldwide. This article first appeared on Monster.com. To see other career-related articles, visit career-advice.monster.com.