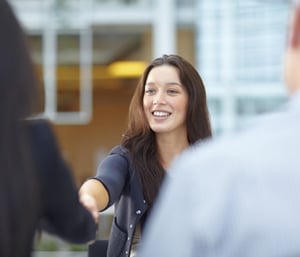 By: Roberta Matuson
Have you noticed how some colleges and universities are experts in attracting top talent to their schools? These schools provide employers with some valuable lessons in how to attract top talent.
Here are some best practices you can apply to your organization to recruit top talent.
Image matters. Visit the website of any top ten school and the first thing you'll notice are photos of happy students participating in various activities.
These images attract prospective students by providing a visualization of campus life. They also aim to engage parents, who are usually involved in important decisions like college or first jobs (think Millennials.)
Take a look at your company website. Does it generate interest in your workplace or are you tempted to quickly move on?
If not, think about your audience. Who are you trying to attract? Consider putting together some focus groups that consist of the sort of candidates you are seeking and monitor their impressions. Then make adjustments accordingly.
Be selective. All of the top ten schools are extremely selective and everyone knows it. They don't hesitate to include their selectivity in their branding. Prospective students know if they are fortunate enough to gain entry into one of these schools they'll be part of a community of students who are equally focused.
Everyone wants to be on a winning team. Yet today's top candidates can be choosy. They have high expectations for themselves and expect just rewards in return. Be sure your company's online reputation will meet their expectations – and that your employer brand reflects that story.
Assemble a team of ambassadors. Most campus tours are conducted by a student ambassador whose job it is to engage visitors and leave them with a great impression. Only the best and most enthusiastic students need apply for these jobs, as they are representing the university brand.
The business equivalent of these campus tour guides are known as brand ambassadors. These are your best and most enthusiastic people. Are these folks participating in your hiring process? Or are you relying on individuals who view recruiting as a chore?
First and last impressions count. Make sure the employees who interact with candidates and who conduct interviews are as excited about working at your company as those student ambassadors are about representing their school.
Showcase the best parts of your organization. A college tour wouldn't be complete without a walk through the multi-million dollar student fitness center or the new dining hall that looks more like a restaurant than a place where students dine.
Companies often showcase the worst features of their offices. Carefully consider your choice of interview location. Avoid the usual basement or room with no windows. Instead, showcase the best parts of your company so that you are appealing to candidates you are trying to attract.
Respond to all applicants. Even the most selective schools make it a point to get back to all candidates who apply. Although perhaps it's not always the news a prospective student wants to hear, studies show that this type of communication is highly valued.
Remember that candidates are freely giving you their time and interest. In return, at minimum they deserve a letter telling them that an offer will not be extended. This correspondence is an essential part of the candidate experience. As such it will go a long way toward helping your employer brand.
Involve peers in the interviewing process. Top ten schools encourage prospective students to speak directly with students. Many offer candidates the opportunity to spend a day on campus and experience life as a student, thereby allowing them to make an informed decision before committing to a particular school.
Similarly, invite your top candidates to spend a day with their prospective team members. Granted, some may choose to work elsewhere after doing so, but that's not necessarily a bad thing. Those who commit will know exactly what they are signing up for when they accept a job offer with your organization. This can provide two big benefits -- it will improve your job offers and help to lessen employee turnover.
Reconsider previously-rejected candidates. Colleges and universities often welcome previously-rejected students with open arms. Many students re-apply and are accepted as transfer students, after gaining experience at other schools.
Hiring managers reject candidates for a number of reasons. As candidates mature and business needs change, applicants who may not have been a good fit a year or two ago may be the exact fit today. This talent pipeline will be particularly helpful for seasonal hiring needs.
For more information about Dispatch Media Group, or to contact a Recruitment Sales Executive, please click here and fill out the form.
© 2016 — Monster Worldwide, Inc. All Rights Reserved. You may not copy, reproduce or distribute this article without the prior written permission of Monster Worldwide.
LIke what you've read? Sign up for our blog.