By: Roberta Matuson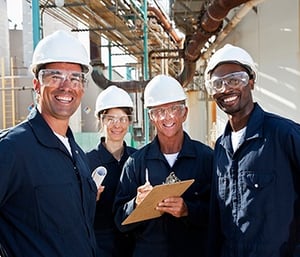 Recent events have underscored deeply varied opinions in our country. More than ever, your workers need a workplace that is supportive and respectful -- a place that puts aside opposing views and enables workers to get work done together.
Here's how to create a workplace culture that's inclusive and productive.
Create Opportunities for People to Work Together
You don't have to artificially create ways for people to work together; opportunities will regularly pop up on their own. As manager or business owner, what you do need to do is to seize these moments.
Here's how you can do this. Suppose a problem arises in the midst of a new product launch. Rather than summoning individuals one by one to your office, bring staff members together to brainstorm ways to quickly solve the problem.
In other words, be inclusive -- in both good and bad times.

Build Consensus and a Sense of Ownership
People who feel they've been heard are more apt to support decisions than those who feel like they've had no say. Look for opportunities to solicit ideas from employees who will be responsible for implementation.
Give people an opportunity to build on these ideas. Encourage them to share their concerns and suggestions. Remind your team members that all ideas are welcome. These practices are the essence of a productive company culture.
Redistribute Resources
It's not uncommon for tempers to flare when workers are constantly fighting for resources. The result is a stressful environment. If your company is truly looking to build a harmonious team, then look at your resource allocation with an eye towards a more balanced approach.
Respect Starts at the Top
As a business owner, leader or manager, take some time to examine your own behavior to ensure it matches your intentions. Often times, in the heat of the moment, we may say things that don't really reflect how we feel.
All of us say things that run counter to our intentions. If you know you have a tendency to do this, consider this simple practice -- pause and take a breath -- and exhale -- before you respond.
Make note of what's going on in your department. Intercede the moment you witness disrespectful behavior among staff members. Sending a strong message that this type of behavior is not acceptable will help create a culture of respect.
Encourage Team Members to Work through Issues
While it may seem easier for you to play referee when team members disagree, this type of behavior can have unintended consequences. You can quickly go from boss to therapist in a nanosecond.
Provide team members with private space to work out their differences. Offer to moderate the conversation, only after they have tried to come to agreement on their own.
Give People Time to Assimilate
Imagine being tossed into a room filled with strangers and being expected (on day one of the job) to engage with everyone around you. People need time to get accustomed to their new surroundings and their co-workers and team members need time to get to know their new associate.
Be patient. Teams don't gel overnight. That doesn't mean you have to stand by and do nothing. Food is a great icebreaker. Order lunch in and encourage employees to eat in the break room. You can take this one step further. Designate one day a week for a potluck lunch and encourage employees to bring a favorite family dish.
Create Team Incentives
Take a look at your compensation practices. Are raises and bonuses awarded solely on individual contribution or is part of their compensation tied to team performance?
Compensation drives performance. Organizations that are interested in building strong teams tie a portion of compensation to something other than individual performance.
For example, it's not uncommon for salespeople to receive bonuses based on achieving individual quotas. If the sales team makes their overall goal, an additional bonus is shared among the entire sales team.
A respectful and supportive workplace is a welcome haven in an often turbulent world. It also doesn't take much in the way of resources to create this type of environment.
The results will enable you and your workers to achieve more -- with greater satisfaction.
For more information about Dispatch Media Group, or to contact a Recruitment Sales Executive, please click here and fill out the form.
Like what you've read? Sign up for our blog!
© 2016 — Monster Worldwide, Inc. All Rights Reserved. You may not copy, reproduce or distribute this article without the prior written permission of Monster Worldwide. This article first appeared on Monster.com. To see other career-related articles, visit career-advice.monster.com.