There are so many marketing options nowadays, it can be tough to figure out exactly how to measure them or figure out which are most effective. And since marketing is a key to a successful business, knowing how to measure return on investment on your marketing strategy has never been more important. Here are some low-cost, simple ideas to help start measuring your return on investment.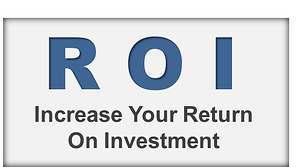 Track phone calls - One of the easiest ways for a business to measure the success of a marketing campaigns is call tracking. Assign different phone numbers to your various marketing campaigns. By having a different phone number for your TV ads, your web ads, and your print ads, you can see which leads are coming from which campaigns. By evaluating the number and quality of leads, you can figure out which marketing campaigns are giving you your best return on investment, and adjust.

Create Custom URLs - Similar to phone call tracking, assign custom URLs to your different online marketing campaigns. See if your tweets, Facebook posts, email campaigns, or online ads are drawing the most traffic. You can also use your custom URLs to send your customers to unique landing pages that are tailored to different customers and figure out which source brings the customers who are truly interested in your business.
Ask customers how they heard about you - Directly asking your customer how they heard of your business is the easiest way to measure your marketing investments. Asking them in person, through surveys, or over the phone, you can figure out what you are doing right and make sure it keeps happening.
Promo codes - Since most business run promotions, giving a unique code to each individual promotion based on the channel it is run on. So when you have a radio ad or direct mail, give them a promotional phrase they must mention when at the point of purchase. By tracking what kind of promotions lead to the most purchases, you can plan your next marketing campaigns around them.
Analytical tools - There are many online tools that can help monitor your online audience to your website. One of the best is Google Analytics. Just include it in your website, and then you can start monitoring traffic, unique visitors, page views, and other online stats. The best part: it's free. But don't stop there. There are analytics included with Facebook, Twitter, and YouTube that can help you monitor your social media marketing.
Social media - There are plenty of easy ways to measure your social media efforts. As mentioned before, Facebook, YouTube and other social media have built in analytical tools, to keep track of your mentions, followers, and reach. But also track your social marketing campaigns with promo codes or unique URLs and figure out which are the most effective types of social media campaigns.
These are just some of the techniques that can be utilized in order to measure and grow your Marketing ROI. Implementing even a few of these strategies should help you gain valuable insight which will increase your marketing ROI. Good luck.