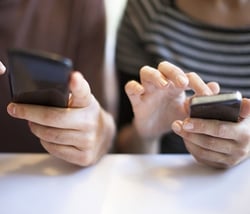 It's not hard to see on a daily, no scratch that, an hourly basis the impact that mobile smart phones have on our behavior. Take a gander at any waiting room of any type of office and you'll see heads down, fingers scrolling and swiping through screens. When you're enjoying a meal at a restaurant, you'll notice nearly every table has someone interacting on their device. Even in the corporate world, almost every individual at the meeting table will have their phones out of their pocket and right in front of them, making sure to capture every notification instantly.
Like it or not, we're living in a mobile world that has taken control of our behaviors in nearly almost every situation we are in.
So how are you, as a business, capturing the attention of everyday consumers who use their electronic sidekick as a resource for almost every decision they make? And with the holiday season setting into its highest gear, what are you doing to make sure your products are being featured? Because if you aren't making mobile marketing a priority, your competitor is.
I ask business owners if they've ever noticed that the consumer MORE frequently knows - now more than ever - what product they want and ask minimal questions. Nearly every owner agrees, this is becoming more and more the case. That's because the consumer's doing the research on their own time before making the purchase. According to Google, it makes perfect sense. Google Trends, which tracks search traffic, said "searches for 'best [insert your product]' have grown by 50% over the last year." You, business owner, may believe you have the best product … but does Google know you have the best product? If not, then certainly the consumer won't find out.
And they're doing this research on their phones. "Last holiday, reading reviews was one of the top three actions shoppers took while shopping on mobile, up significantly over the past two years," according to Google. Why is that? Google says it's because the shopper values convenience. Even as the shopper is in the store, as "mobile searches in store are up over 30%."
You know you offer the best product or service. Now the challenge is capturing the attention of the millions of consumers who look down at their phones to tell them what to buy. Are you taking advantage of the digital capabilities that can put you in front of those eyes? If not, then we should chat.
~ Greg Glasser
To speak with a digital specialist or to schedule a free digital consultation including a website / web presence audit, please click here and fill out the form. A digital specialist will follow up within 24 hours.
Like what you've read? Sign up for our blog.
Sources: