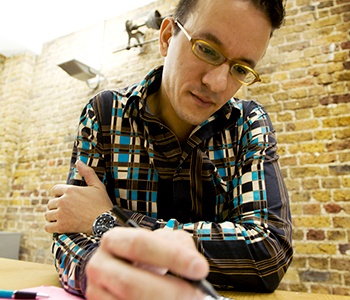 By Emma Miller (guest DMG Blogger)
Choosing the best advertising channels for a product or a service is one of the most important tasks for every marketing professional. In recent years, marketing agencies have managed to incorporate the digital channels into their marketing mix, and now they are efficiently targeting their audience with both online and offline techniques.
Small business owners, on the other hand, are left stranded and confused. In most cases, they don't have the means to finance complex marketing campaigns, so they use only the channels that offer free or affordable promotion. This kind of thinking affects their marketing ROI and slows down the development of their business. In this article, we are going to explain the process of choosing the best advertising channels for small business entrepreneurs.
Company website
The website is the most valuable piece of 'digital real estate' for many big companies. There are also small businesses that invest a lot of money in their web pages and use them as portfolios. Many small companies still haven't recognized the benefits of content marketing, and they don't run blogs or produce other types of web content.
The website should be the main presentation of the company's work. It can be a very powerful marketing tool. Entrepreneurs need to invest a lot of time and money in designing their website layout, filling it with good-quality content and optimizing it for search engines. These investments have a capacity to produce fantastic returns, even for small businesses. That is why entrepreneurs should pay special attention to their company's web presentation.
Contact our Digital Team for a free consultation regarding your Company website. Our team of 300 + can help in all areas - Website design, SEO/SEM, Content creation, Mobile Optimization, and more!
Facebook advertising
Facebook is the small business owners' platform of choice. They use it to present their products and services and to connect with potential customers. This social network also offers a highly-developed advertising platform, which comes with one of the best targeting algorithms in the marketing world. Unfortunately, many small business owners use Facebook advertising in a completely wrong way. They are boosting posts and focusing on their reach, instead of building their conversion with the use of Facebook Pixel and other advanced options offered in the Power Editor.
Facebook can be a powerful marketing tool, if used correctly. Our recent blog, "What's the Value of a Like" discusses how to most effectively use Facebook. Contact our Digital Team for a free consultation on Social Media strategies.
Twitter
This social network can be a great marketing tool and the real time nature is probably its most valuable benefit. Twitter allows us to come in direct contact with consumers and present them with time-limited offers and propositions. The tweet posted at the perfect time can reach thousands of consumers because Twitter's news feed allows you to target all users on the network. Many small companies also use Twitter as a customer support tool. This way they can efficiently provide support to dozens of customers, without setting up a call center.
Brochures
The widespread implementation of the digital marketing, have suppressed more traditional marketing channels. Brochures still represent a very efficient marketing tool, especially for location-based small businesses. Many consumers ask for a brochure the moment they set foot in a retail store. They use them to find the information about the products they want to buy. Consumers also read brochures on their way home from shopping and share them with their family and friends. That's why promotional solutions like marketing booklet printing still has a very high value.
Our Print division has been creating & delivering Circulars, Brochures, Inserts, etc...for over 145 years! Contact Us to discuss delivering your brochure out in to the market. These deliveries can be highly-targeted based on your target consumer - from zip code to household.
Review websites
If you try to search for "the best restaurants in New York City" on Google, you won't find a restaurant link on the first search results page. You'll find links to the articles and review websites where you can check restaurants' references. Promoting your small company on review websites is a very tricky business. Leaving reviews yourself is unethical, and it won't take you far on the big review platforms like Yelp or TripAdvisor.
You need to motivate satisfied customers to leave a review. Explain them how and where they can leave a review with the colorful pampleth. This pampleth can also contain a special coupon code or some other incentive. When instructing your customers on how to leave you a review, ask them to be realistic and unbiased.
Reputation management is a critical part of any digital marketing strategy. It can make or break your business - as high as 90% of people trust online reviews. Contact Us for a free digital marketing consultation and online audit to determine any holes in your strategy.
Newsletter
Many experts thought that email marketing is dead, but in the recent years, this channel came back with a vengeance. Today, consumers receive notifications about the incoming mails on their smartphones, so they often read them on the spot. Of course, your company's newsletter should only target your leads and prospects. Abstain from any spam mail and keep your newsletters fun, interesting and useful. Email marketing campaigns are much easier to manage when you are using the specialized software like MailChimp or Campaign Monitor.
The most important thing when choosing the best marketing channels is establishing a strong, interactive relationship between them. This way the digital channels will complement the analogue ones with their advanced insights. The use of more traditional channels will help you build relationships with your customer base and a strong community around your brand.
Need help getting started with a Newsletter? Contact Us about using our contact list of over 100,000 opted-in email addresses. These can be targted by DOZENS of demographic, behavioral and geographic criteria. Example: Target 35-50 yr olds with a HH income over $150,000 in 43085.
Ever wondered how top companies prepare their newsletter? Look no further the email marketing experts from Moosend have created the ultimate email newsletter checklist to get your email marketing campaigns of the ground safely!

Interested in somthing you read?

Emma Miller is a guest DMG blogger and a Sydney based writer with a degree in marketing. Interested in digital marketing, social media, start-ups and latest trends. She's a contributor at Bizzmark Blog and DMG Marketing Blog.