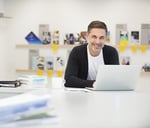 Congratulations goes out to the Columbus Dispatch. For the fourth time in five years, The Dispatch was named Ohio's best large daily newspaper in the annual Ohio Associated Press Media Editors competition, announced on Sunday.
The newspaper's website, Dispatch.com, was named best in Ohio for the second year in a row, and the paper received nine other first-place nods, including awards for investigative and public service reporting.
"These awards reflect the work of an extremely talented staff," said Dispatch Editor Alan D. Miller. "They also reflect a continued commitment by The Dispatch to uphold high standards in journalism and deliver accurate, compelling stories to our readers every day — online, on mobile devices and in print.
"Given the number of strong news organizations in Ohio," Miller said, "it's a tremendous honor to win the top awards for public service reporting, investigative reporting, best website and best newspaper."
The Dispatch took 31 awards at the Ohio APME annual conference and luncheon on Sunday, and 11 were first-place awards, including general excellence for print and for "best digital presence" for Dispatch.com. The Dispatch also was awarded firsts for best daily sports section, best special sports section for "College Football National Championship Preview" and best public service for its series about suicide, "Silent Suffering."
Read the full story by Shannon Gilchrist on dispatch.com.
For advertising information with The Columbus Dispatch and Dispatch.com, please visit advertisecolumbus.com