Good Afternoon!
I hope you are all doing well on this wonderful day! The reason for today's post is to inform you of a 3 very unique opportunities and events coming soon you should NOT miss.
First, we have our 1st ever, annual CBUS Top Picks event, next we have Google coming to town!, and finally, for those of you in Human Resources or in charge of hiring we have a Digital Best Practices seminar by ColumbusDispatch.Jobs & Monster. Keep reading to find out why you should take part. Hope to see you there!!
1. CBUS Top Picks 2016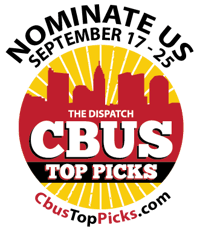 For the first-time in our 145-year history, The Columbus Dispatch is launching a program for the community to recognize their favorite area businesses through the Dispatch Cbus TOP PICKS. It's going to be big because over a million people in central Ohio use the Dispatch regularly online, on mobile, our App and in print. Plus, we're working with other community partners to spread the word, like Experience Columbus and the Better Business Bureau.
First, Get Yourself Nominated
What's that? It means your company will be listed by name on the ballot during the public voting period in October, making it easier for folks to cast their vote for your business. The public will nominate businesses from September 17-25 through a write-in process, and we want to make sure you are one of the businesses. Talk with your account representative or click HERE for ideas to get your business nominated.
Click HERE to find out how to get nominated!
2. Propel/DMG and Google invite you to a Google-sponsored event.
Yes, we seriously have Google coming to talk to you about search marketing! Don't miss this event because it may not happen again for some time.
Join us Friday, October 7th for a highly EXCLUSIVE, free event featuring a guest speaker from Google and Digital Specialists from Propel Marketing/Dispatch Media Group. At this event you will learn the tools you need TODAY to shift your team toward Profit Driven Marketing.
Our guest speaker will discuss the latest trends in search marketing to help you increase your digital marketing ROI immediately. Don't miss your chance to discuss search marketing with industry experts! Hurry and get your seat today.
There are two sessions - one for beginners to the digital marketing arena, and one for the seasoned marketors with current and on-going digital marketing strategies. If you've never heard of Search Marketing or SEM, then you should attend the first session!
Guest Speaker from Google:
SHELDON BERNSTEIN
Sales Strategy, Enablement, Insights
Join us for an exclusive breakfast recruitment panel on September 21 to learn how local companies are succeeding with their recruitment strategy by integrating solutions from ColumbusDispatch.jobs, Propel/DMG and Monster.
Filling the employment gap is a challenge for many businesses. Join use to learn how our panelists are using ColumbusDispatch.Jobs, Propel/DMG and Monster. Learn more about:
Using social media to drive hiring event attendance
Using targeted mobile advertising to reach passive job seekers at work and after hours
Specific products that support your annual recruitment strategy in a challenging, online and competitive market
Performance improvements and results of campaigns and
To RSVP or for more details, click HERE.
| | | |
| --- | --- | --- |
| | | |