Whether you're using your landing page to make direct sales or gather emails from leads, it is one of the most crucial steps in the conversion process. After all the outreach and advertising, it comes down to this final act. Will your prospects turn into customers? They will if your offer is solid and your landing page is optimized for conversion.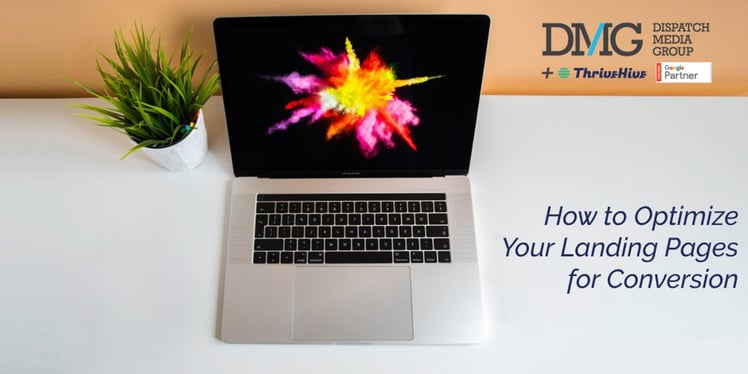 Landing Page Optimization Tips
As with other steps in the process, you want to ensure that your landing page is compelling visitors to take whatever action you want them to take. Here are a few ideas on how to increase your conversion rates.
Focus on the User
In both content and design, the user should be your top priority. For content, that means you'll want to focus on their needs, how your product or service benefits them. Don't just carry on about how great you are. Speak to the audience directly, using language that makes sense to them.
For design, you want to provide a seamless and pleasant experience for your visitors. Make the text easy to read and the page easy to navigate. Overall, follow best practices for landing pages.
Include All the Necessary Elements
Every landing page is different, but the best share a common set of elements that help visitors move from the prospect to buyer category. A few must-have elements of landing pages include:
Offer: What are you promoting? What does your reader get from clicking that call to action(CTA)?
Headline: A good headline will pique your reader's interest and set them up for conversion.
CTA: If you don't have a clear CTA, you don't really have a landing page because you aren't providing the reader with the next step.
These elements and others, like an image or social proof, will help you create a solid landing page that converts.
Use Unique Landing Pages for Different Segments of Your Audience
The more narrow your audience, the better you can speak to them. For example, if you provide products for mothers, you will want to talk differently to first-time mothers, pregnant women, or those with older children. Even if the offer is the same, you can increase conversions by changing the tone or specific examples or case studies you use.
Often, just changing the headline and feature image can help you speak directly to multiple segments.
Try Optimizing Your Landing Pages for Search
The main purpose of a landing page is not to increase traffic to your website; it's to increase conversions. However, you can optimize your landing pages to be found on search engines to achieve an even higher conversion rate.
Ideally, you want landing pages to be short and you can't really use internal linking. This makes it more difficult to incorporate SEO best practices into this format. It is worth experimenting, though, to see how your organic search traffic converts. Just be sure that you don't make your landing page less compelling in the process.
Test Your Pages
Another essential way to experiment with your landing pages is A/B testing. This just means that you have two versions of a page in order to see which one converts best.
Rather than create two completely different landing pages, though, you will want to focus your test on one particular aspect. That way, you can isolate which change is making the difference. Here are a few different elements that are usually worth A/B testing:
• Headline
• Image
• CTA button (copy, size, color, etc.)
• Testimonials
• Copy
• Length of page
• Form fields
Do Not Neglect the Form
Speaking of form fields, you don't want to overlook this aspect of your landing page (if you include one). While the form design often feels like an afterthought, it can make a big difference in whether or not your visitor is willing to fork over some personal information.
So follow best practices to get more people to fill out your lead generation forms.
Have Only One Call to Action
Sometimes, businesses make the mistake of asking a landing page to do too much. After all, you're sending traffic to the page and trying to optimize it. You want it to do as much as possible for your business, so you have an option for signing up for a newsletter, and maybe another for buying a product… and another for joining a membership. They can choose which one they want to follow through with, right?
Unfortunately, this confuses visitors and hurts your conversions. You want each landing page to have one specific goal.
By providing just one CTA, you can help maintain the visitor's focus. It should be clear to visitors what they should do if they are interested in your offer. This action should then be reinforced by the content around it.
Repeat that One Call to Action
This doesn't mean that you have just one CTA button. Depending on the length of the page and the design of the content, you can repeat the call to action phrase as needed. It just needs to all go to the same place.
Other Methods of Increasing Landing Page Conversion
Remember that your landing pages are mini sales pitches. Even if you are not actually asking for money, you are trying to persuade your visitor to take action. One of the best ways to do that is to build trust with your audience.
Use Testimonials
The best way to brag about yourself is to have other people do it for you. You can go on and on about how your product or service will change your prospect's life, or you can show them. Testimonials tell prospects, "I was just like you, and this worked for me." The more your audience can identify with the client giving the testimonial, the more likely they are to click that CTA.
Show Certifications
While certifications are not as important as testimonials, they do work as proof that you can be trusted. They show prospects that a third party has signed off on your ability, skills, or credibility.
Even if you're comfortable with the Internet, there are plenty of prospects that approach it with a bit of distrust (and rightly so in many cases). So, if you have certifications for your product or service, show them on the landing page. It will help assure the visitor that you aren't just some random person with a slick sales pitch.
Incorporate Statistics
One great way to build trust is to show that you are an authority in your field. You can accomplish this by using stats on your landing page. They can be from within your business or from the industry in general. For example, as an accounting firm you might share how much money you've saved companies this year. Or you might show how much a typical small business loses in profit because they don't properly itemize their taxes.
This type of information can help make your offer more compelling, even as it builds your authority.
As the last step in the conversion process, the landing page plays an important role in generating leads or growing your customer base. The good news is that a few simple optimizations can significantly boost your conversions, so give the above ideas a try.
Contact us for a free consultation on your advertising & marketing strategy including your digital presense!