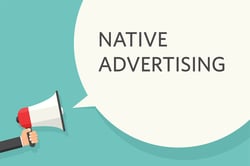 I recall when the buzz around native advertising started a few years ago. At that time, brands were trying to figure out how to use native to benefit their businesses. Most couldn't figure out how to use it correctly. Some were making the content more like what we term as advertorial in the media industry. They were publishing "stories" about how their businesses/ services were the best. While information like that has its place, the normal consumer can see right through that tactic. To be frank, most everyday people don't want to read an article that's solely about your business. What they want to read is content that they can use, that provides ideas, or even advice that they can implement into their everyday lives. They want to read information that they can share with their friends and networks. Native advertising provides the opportunity for a business to be seen as an expert in an industry, by association with this type of good, valuable content.
For those of you that are not familiar with native advertising, it is online content that is made to naturally flow within the content of the site in which it lives. It flows within the content on that trusted site, but is clearly marked to be sponsored content. This video from the IAB, gives a great explanation of it- https://www.youtube.com/watch?v=813APfPvEF0
I think that some advertisers have finally figured out how to use native advertising, and not just big brands, but businesses at the local level too. These brands are using publisher sites to engage the everyday consumer by bringing interesting, valuable, and shareable information to online visitors, and ultimately their perfect target audiences. They are bringing this message to these consumers, and therefore are being seen as the knowledgeable expert in that field. Let's face it, wouldn't you want to do business with an expert?
There are different types of native advertising, and publishers use different forms on their sites. Here is an article from Forbes talking about those different types.
http://www.forbes.com/sites/steveolenski/2015/11/12/6-types-of-native-advertising-and-how-each-can-benefit-your-business/#539ffa7d5d09
If you have additional questions about native advertising, and how you can use it to benefit your business, a Propel/DMG digital specialist can provide some ideas for you. Contact us here by filling out the form.
- Get more ideas, trends and industry information by signing up for our blog.