By: Roberta Matuson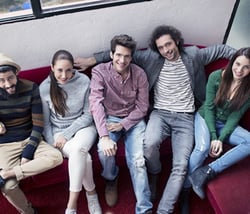 Summer has unofficially started – and horrors – your business may still be in need of summer staff. While it may be seasonally appropriate to stick your head in the sand, it won't get your summer hiring done before the last school bell rings.
Here's the first thing to know: the summer hiring landscape has dramatically changed and so must you. This recent article on 2016 summer hiring points out just how difficult seasonal hiring will be this year.
With no time to waste, here are some tips on what you can do to rapidly hire summer hires in a hot and often arid labor market.
Contact Everyone You Know for Referrals
Not every kid has left town for a dream summer European vacation. Some are still heavily involved in sports and studying for finals. That's good news for you, as many of these students are open to taking on a summer job. They just haven't had the time to look for a seasonal job.
Make a list of everyone you know. It should include friends, acquaintances, former employees (who left on favorable terms), teachers, customers and peers. Reach out to these people, either through email or by phone.
Ask them who they know that might be interested in a seasonal job this summer. Where appropriate, sweeten the deal by offering a referral fee or perhaps a gift certificate to your place of business.
Leverage Your Social Network
Increase the job postings' visibility through your social network. Include links to your summer job postings on social media sites like Instagram and Facebook. These sites tend to be frequented by the population who you are likely looking to hire.
Consider Alternative Work Schedules
Summer doesn't seem to last very long these days, especially when students need to return to school early to participate in sports. There's also the challenge of working in time off to recover from a fairly intensive school year. That's where being different can pay off.
Be open to an old idea whose time has come back around again -- job sharing.
Job sharing is a work arrangement where two people typically are hired on a part-time basis to perform a job that is normally filled by someone working full-time hours. Compensation is allocated between the workers. Two friends could very well share one job.
This approach gives both parties the opportunity to earn money and work experience, while also having reserving time to enjoy summer. Let summer hire applicants know this is a real possibility and encourage them to bring in a friend who is available to tag team with them.
Forget Perfection
Forget about looking for the perfect summer hire. That ship sailed several weeks ago. While you certainly don't want to skimp on necesary job requirements such as a lifeguard certificate for lifeguard positions, you can ease up on requirements that are "nice to haves."
For example, you might have hoped to hire someone for your ice cream shop that has experience scooping ice cream. Clearly this is one skill that can be taught. If a candidate has a can-do attitude, then by all means, scoop him up and make an offer!
Consider Non-traditional Summer Hires
There are many stay-at-home parents who have kids going off to camp this summer. Many would jump at the chance to dip their toes back in the job market.
It's not uncommon for stay-at-home parents to hang with other parents who are in the same situation. If you can get one or two of these people to say yes, they'll recruit others on your behalf.
Consolidate Your Hiring Process
In an ideal world, it would be great to conduct more than one interview with candidates you are considering hiring for a seasonal job. Today's hiring conditions are anything but ideal for employers.
According to Trade Economics, the overall unemployment rate will hover near 5% this year with fewer adults seeking seasonal work compared with last year. This means you have no margin of error. Those that are taking too long to hire will no doubt find themselves coming up empty handed in terms of staff.
Examine your seasonal hiring process with an eye towards significantly reducing the amount of time it takes for someone to go from the application process to being hired. Consider having candidates fill out an abbreviated application, which may help to increase your applicant flow.
Interview seasonal workers on the spot and be prepared to make offers that very same day, contingent upon satisfactory references.
There's still time to fill your seasonal jobs. Look in places where others aren't digging for talent, streamline your summer hiring process and be ready to extend an offer the moment that almost perfect candidate walks in the door.
For more information about Dispatch Media Group, or to contact a Recruitment Sales Executive, please click here and fill out the form.
© 2016 — Monster Worldwide, Inc. All Rights Reserved. You may not copy, reproduce or distribute this article without the prior written permission of Monster Worldwide.
For more information like this, please sign up for our blog!