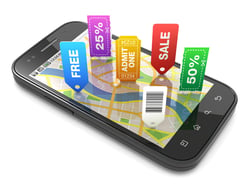 Geo-fencing
is a variation on the more commonly known geo-targeting – that is, restricting the placement of digital ads so they only show to users within a predefined area or location based on the user's IP address.
1) Ahead of the Curve
"More Google searches take place on mobile devices than on computers in 10 countries including the US and Japan." [7] More people are searching on mobile than any other device.
Geo Fencing is a great way to stay ahead of the curve and reach an audience your competition may be overlooking. National campaigns are already moving to this type of targeting -
58% of national brand advertising campaigns employed geo-precise targeting (including geo-fencing and geo-behavioral targeting) in Q1 2013.
[1]
Be the local advertiser ahead of the curve.
2) Cost-Effective
Targeting or "fencing" a specific location to advertise your message is more cost-effective and has shown to have a higher CTR (click thru rate) percentage.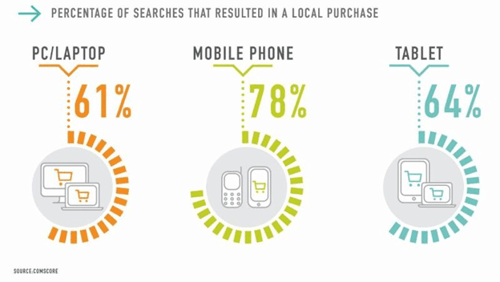 3) Easy Setup Process
After creative is approved, it takes between 48-72 hours to make a campaign go live.
4) Engagement
Push notifications can attract any type of consumer, whether in your typical demographic or not.
5) Data Anaysis
We can provide data to show which areas are bringing the highest ROI and can optimize impressions to these locations.
Why is Mobile Marketing so important?
Nearly two-thirds of Americans are now smartphone owners, and for many these devices are a key entry point to the online world. [2]
81 percent of shoppers conduct online research before buying. [3]
78 percent of mobile searches for local business information results in a purchase. [4]
90 percent of all American adults own a cell phone.
75 percent of mobile shoppers have used a mobile coupon.
42 percent of American adults own a tablet computer.
32 percent of American adults own an e-reader. [5]
74 percent of adult smartphone owners use their phone to get directions or other information based on their current location.
The average cell phone user checks their phone 150 times per day. [6]
10 percent of Americans own a smartphone but do not have any other form of high-speed Internet access other than their data plan.
Click here to contact me about your mobile marketing strategy or to get your geo-fencing campaign started. We offer free digital audits of your web presence along with a consultation to discuss the results. This is a great way to see your campaign in action or to find any holes in your strategy.
Sources: