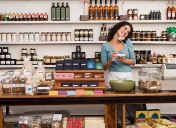 Face it the economy is tough and running a small business can be even tougher. Competition is fierce, time is tight and sometimes budgets are even tighter. But there are some things that a small business, or any business, can do to help save advertising dollars, increase efficiency, and move ahead of the competition. Following these simple advertising tips can make big difference.
Tip 1 – Focus Advertising On Business Objectives
Focus your advertising in on a few things that work for your small business. Everybody will be coming in and trying to sell you on their products and their solution. Saying yes to every advertising professional that calls or comes through your door would mean that you are not advertising with your business goals in mind.
It is essential to develop an advertising program that reflects your business goals and focuses on specific local events and peak times of the year. Most businesses have peaks and valleys throughout the year due to forces beyond their control such as the local climate or consumer behavior, and your business is no different. Focus more of your advertising around the times of the year when people are naturally looking for what you have to offer. Don't try to change consumer behavior. Instead make it work for your business. Get the word out to people when they are thinking about buying what your business is selling, and let them help you by generating word of mouth advertising to their friends who are thinking about what you are selling too.
Generating promotions around your business anniversary, community events, customer appreciation days and other special occasions can also deliver a larger return on investment for each advertising dollar invested. Put together an advertising budget around your plans and stick to it as closely as possible throughout the year.
Tip 2 – Be Consistent

Make sure that all of your advertising has the consistency it needs. When potential customers look at your advertising you want them to immediately recognize it as yours. Of course, this will not happen overnight, but if you stay consistent it will happen in time, and you will be well on your way. In order to accomplish this make sure all of your ads have the same look, and similar messaging. When working on a tight budget creating a basic template for your advertising and then making small changes can make make a big difference. If you have the budget, select a professional graphic designer to create these templates, or ads for you. If that is not in your budget there are plenty of templates out on the internet that you can access for free or low cost.
Tip 3 – Utilize Cost Saving Techniques
Reduce the cost of your advertising. One way to do this is by working with a company like Dispatch Media Group, which offers a wide variety of products to ensure your business can get a solution tailored by one of our marketing professionals to your specific business needs at a lower cost. Take advantage of frequency discounts which are common when advertising regularly. This approach not only makes each ad cheaper but also helps your business reach a frequency level proven to help advertising achieve success. Decreasing the size per ad can also help. Accomplish this by focusing only on the major points you need to convey to attract customers to your business.
Tip 4 - Know Your Customers
Another way to reduce costs is to make sure you know your customers. Learning who your customers are, where they are and what they do allows your business to target advertising to the right demographic, geographic area or lifestyle group. This knowledge helps your business target advertising mainly to these groups, reducing advertising waste. This insight also proves helpful in planning promotions, with product placement, and to identify sponsorship or partnership opportunities within your community.
There are many other advertising tips and strategies than covered here. Remember, there is no single right way to accomplish advertising on a budget. But keeping your business goals in mind, focusing your advertising messages, being consistent with your look and message, knowing your customers and reducing advertising costs wherever possible is likely to put your small business ahead of the competition. Isn't that exactly where you want your small business to be?