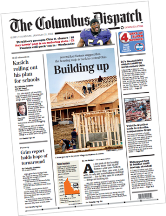 It's now been just over two weeks since we launched the new format of the newspaper in our market on January 28, 2013. A lot has happened since the time we launched the new format and now. We have had unprecedented reader feedback, great conversations with our advertising community and innumerable inquiries from other publishers across the country.
So, what are the readers saying?
How many of you receive a call from your customers when they are happy? It's more the other way round, right? Customers rarely hesitate to pick up the phone or post a note on FB when they are unhappy about something. However, in our first two weeks after launch, we have had more than a 1,000 readers call or email us to say good things about their new Dispatch, and only 850 calls / emails with a complaint.
Here's a verbatim reader comment that captures the essence of most of the positive feedback…
"I absolutely LOVE it, even though I was prepared to hate it. No one likes change, but it's so much more manageable and easy to read. The only criticism I can come up with is: Why didn't you do this ten years ago? BRAVO - bravo for a job well done!"
We have received many such notes. In fact, one reader went to the extent of actually penning a poem on the new format. You can read the poem and other comments on our media site.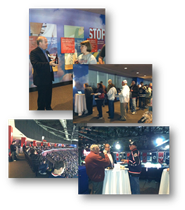 We also held a "Reader Rewards" event at Nationwide Arena on February 5, when more than 200 readers were invited to enjoy a Blue Jackets hockey game and provide feedback to a group of Dispatch editors, reporters and marketing team members. We also had them fill out specific survey questions, the results of which are illustrated below:
When asked about their initial reaction, 96% said that they were "pleased/very pleased" with the new format
When asked the question whether they preferred the new format or the previous broadsheet version, 81% said that they preferred the new format over the broadsheet
We also asked them to rate the new format on various attributes (color, layout, manageability, etc.) Ratings on all attributes of the paper tested very positive with a 95% good/very good overall rating
Now, does this mean that all our readers drank the Kool-aid? No, that is absolutely not the case. Change is always difficult and we knew that a portion of our reader base will not be thrilled – and, most of these folks have been our subscribers for over 5 years. We fully expect to win them over and bring them back into our fold.
There was another set of folks who voiced their opinion about some of the regular fixtures in the paper – such as the crossword puzzles, Sudoku, changes to the comics layout, Cl!ck, etc. Our Editorial team is listening and responding to their feedback. The new format has allowed us to start a dialog with our readers who are now spending more time with the product and are more engaged – as referenced by Ben in his column on Sunday February 10.
And, what about our advertisers?
We have also heard good feedback from our advertisers – unsolicited.
Tina Richards from Green Lawn emailed her sales rep "I just wanted to share with you how much I LOVE the new look.. It is awesome so much easier to handle…and good readable print... love love love..."
Rob Klaben, VP Marketing at Morris/Ashley Furniture wrote in saying "I picked up a paper yesterday and it looked good. Reproduction was crisp and it was easy to read. Look forward to seeing weekend papers and how inserts are delivered with the paper."
Most of our large retailers and advertisers had asked us the question: How are inserts going to be treated - for home delivery and single copy? The home delivered newspaper was not treated any different from how it was before. The newspaper and the kraft jacket with the inserts are rolled together and bagged before delivery. No change to the subscriber experience!
And, the single copy packet is just turned around before being inserted into the content sections – so the pieces don't fall out. The retailers are thrilled that they don't have to deal with loose inserts littering their floors and the consumer can pick up the entire packet easily!
It's a win win situation!
Where do we go from here?
We fully expect to see a bounce in our subscription volumes and can directly associate that success to the new format. In the two weeks after launch, we are tracking at double digit year over year growth in acquisition volume. And, we expect that trend to continue.
The new format lends itself very well to our iPad edition, and we expect a more satisfied user experience resulting in growth for subscriptions to our digital edition as well.
Ads in the new format are scoring better on recall, engagement and "action-taken" metrics – compared to ads running in our paper prior to the format change, and we expect better ROI for our advertisers as a result.
The revolution that we call "A whole new experience" has just begun in central Ohio. We are excited to see where it leads from here.