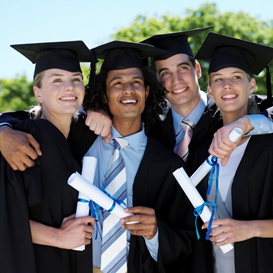 Columbus, OH is an extremely competitive market in the higher education sector and why not when almost half of our DMA has sought out some sort of higher education whether it is a few classes here and there, a bachelor's degree, or an associate's degree? In the local area there are many competing colleges and universities all fighting for their share of potential recruits. Communicating the value your institution provides will be vital for institutions that want to survive and thrive.
Your marketing position is extremely important in communicating value. Ultimately, perspective students want to know the worth of the expenditure they're contemplating from both a financial and time stance. How do potential students perceive your institution? If you want to be a leader in the Columbus market your marketing position should have the following three elements.
Significance - You need to get into the minds of your prime targets; those people who have visited your website multiple times, have filled out an inquiry form online, attended an open house, etc. What do they ultimately want from your institution; a job in a new field, a promotion, a better life? Highlight your job placement numbers, graduation rates, graduate school acceptance rates. Your marketing position needs to speak to the perspective student.
Uniqueness - If your competition owns a specific marketing position, it's going to be difficult and not to mention expensive for you to become the owner of that particular position. What is your institutions' unique competitive advantage? Do your retention rates put everyone else's to shame? Are you able to work with the big businesses that also call Columbus home to make internship opportunities available? Are your former students able to easily pay back the debt incurred for their education? A good example of a marketing position around debt for education, and in not going after the competitions position can be found in this video for Ozarks Technical Community College. Notice how they bring up the competition while doing a great job of showing how much less it costs to attend their institution. They obviously know their target audience, their competition and their position well.
Make it Credible - Potential students must also believe that you can and will deliver on your marketing position. It is your job to effectively convince them with a great campaign. Do you have prominent citizens in the community that are graduates? Do you have graduates with stories about how their lives were changed with the help of your institution? Maybe they would they be willing to provide testimonials to lend credence to your message?
The bottom line is that no matter what your marketing position is, make sure your marketing reflects it and that your message is on point. Having a marketing professional dedicated to your industry can definitely help make sense of the highly competitive market and deliver a message that resonates with prospective students.