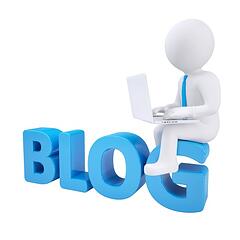 Blogging is not just designed for mothers to chronicle their toddler's latest adventures or a "Star Trek" fan to break down which version of Captain James T. Kirk is superior. Few marketing tools match the power of blogs for growing small businesses.
A blog filled with fresh and original content gives people a good reason to visit your business website. Once you give them reasons to visit, it becomes much easier to convince them to return as customers.
There is no silver bullet for building a successful business blog. It takes implementing smart strategies to draw attention in a crowded blogosphere. The good news is anyone can use these strategies to get noticed and get people to care about their business blog.
Make your blog come alive
Nothing spells doom for your business website faster than a stale blog. Once you start a blog, you need to turn it into a living and breathing entity. Blogs must be fed a steady diet of fresh content. It can't be just any random subject either. Your business blog should contain information both relevant to your business and your customers. It must educate them and improve their lives in some fashion. If they see no value in your content, your blog simply will not matter to them.
Build reader habits
Creating original content is just the beginning. You need to make visiting your blog as automatic to your followers as drinking a cup of coffee in the morning.Building reader habits is best acheived through offering regular servings of fresh content. Post multiple times per week or daily if possible. Get as many of your employees blogging as possible making it easier to achieve your goal. A blog that is seldom updated is a blog that becomes invisible online. Regular blog posts not only capture the interest of customers and potential customers, it is also a good way for boosting the search engine ranking for your whole website.
Become the eyes and ears
One appeal of a successful business blog, the New York Times notes, is it offers customers an insider's view of the industry related to the blog. Customers will flock to your blog when you become the eyes and ears giving them a peek behind the curtain. Your business blog can offer an insider's touch. Review new products on the market, comparing and contrasting them with predecessor products. Offer tips and answer important questions for your customers. Interview key influencers in your industry. Finding different ways to showcase your expertise will help your blog followers see they can turn to you as a resource.
Stay current
Nothing enhances your blog's importance better than keeping on top of industry trends. You can use blog posts to comment on relevant industry news. Show customers how this will affect their lives and how it will influence your business. This will give you a chance to spotlight technological advances, price increases or any other useful information. Customers will feel like an insider armed with this information. You will establish your blog as a destination for updates and enjoy a spike in traffic from unique visitors.
Refine your message
Many businesses operate on the mantra that the customer is always right. Customer input should also be an important component in shaping your blog according to Pro Blogger. Use feedback from comments to shape your content and your branding message. You can use the comments feature to respond to customer questions or solicit their opinions on a topic (Keep in mind that you must be prepared to answer all questions submitted). Creating conversations with your blog readers helps you build a personal relationship. They are more likely to become customers when they see you take time to communicate with them and get to know them.
Conclusion
The power of blogging cannot be understated. It is a forward thinking marketing tool and one of the best ways to broaden your reach. Your business stands a better chance of thriving and surviving in the digital age when you add a vibrant blog to the mix. To learn more about online marketing services contact Dispatch Digital.