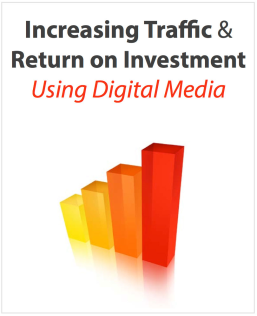 There are many types of marketing campaigns, but an ineffective campaign is a waste of both time and resources. Business owners and directors need to be able to make decisions about how to spend scarce resources to get the most bang for the buck. By the same token, a comprehensive marketing campaign can greatly increase the number of looks your business receives, and broaden the pool of potential customers.
"Increasing Traffic and Return on Investment Using Digital Media" is an ebook geared towards creating a comprehensive marketing campaign for businesses big and small. In it, you'll learn about taking a two-pronged approach: understanding and utilizing social and digital media effectively, and analyzing which methods are performing best. There are many reasons to incorporate digital and social media into your marketing campaign, as the ebook will further explain. While other methods (print, mass mailings, radio, etc) can be effective, digital media is special in that it is generally cheap and easy to distribute. You can also create brand awareness, build relationships, and generate exposure somewhat easily. Social and digital media are especially useful in that they both have the potential to go viral, reach a large audience, and can be outsourced.
You will also read about specific techniques to help increase online traffic, such as creating and maintaining a presence where your customers are searching and utilizing different types of targeting (behavioral, topic, contextual keywords, Retargeting, etc).
Email marketing, email newsletters, and SEM/SEO are all important tools in a marketing campaign as well. In the first two instances, you are reaching an audience that has already identified an interest in your product, so they can be targeted in different ways. SEM (search engine marketing) and SEO (search engine optimization) are two sides of the same coin. Both focus on how consumers find your business through search engines, but paid SEM is more comprehensive than SEO, and they each take advantage of separate tools.
Access to accurate, useful feedback on how your marketing campaign has performed thus far is an important part of decision-making about the future. There are different tools (promo codes, pay-per-click, surveys, polls, and analytics) to see which approaches are garnering your business the most new looks or converting the most customers. Gaining access to this sort of information and incorporating it into your marketing campaign completes the two-pronged approach.
Download the ebook now to learn more about using digital and social media to your advantage, and how to measure your return on investment. You'll be glad you did!