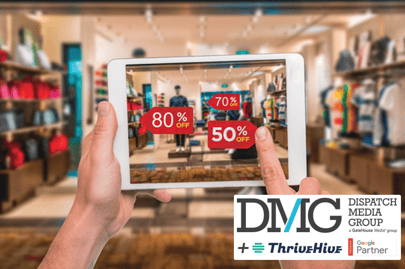 The various ways in which marketers communicate with consumers continues to grow, but with that growth can come confusion and frustration. Several years ago the consumer path to purchase was linear, but with more marketing channels developing each day, competing for their attention and getting a consumer to convert can be more difficult. No two consumer journeys are exactly the same and people are moving through this path on their own terms. The consumer path to purchase is now non-linear with their actions overlapping and repeating until they reach their final purchase decision. Several marketing platforms, channels and trends have impacted this change, including these three:
Mobile
Mobile usage continues to increase but conversion rates are still higher on desktop. However, marketers should not underestimate the role mobile plays in the consumer path to purchase and shouldn't eliminate the importance of a strong mobile presence. According to Google, 64% of smartphone shoppers turn to mobile search to research before heading into a store to buy. As mobile experience continues to improve, the conversation rate on mobile is expected to grow.
Search
Search allows people to create a unique path to purchase. Consumers are now in complete control of their path to purchase, some being short while others stretching out over weeks or even months. Online research has become an influential part of what and how people buy products and services. Online reviews, content and blogs are all examples of the research a consumer will conduct to make a more educated decision than ever before.
Video
A lot of marketers still view search and video as two separate channels but consumers are not using them in that way. They work together within a consumer's path to purchase. According to Think with Google, 80% of people say they typically switch between online search and video when researching products to buy and 55% of people search for a product on Google, and then learn more by going to YouTube before they buy.
As a marketer, it's important to reach consumers in as many phases of the consumer journey as possible. Because of the impact mobile, search and video have had on the consumer journey, a solid marketing strategy should include these channels. Making sure your website is mobile friendly, investing in a strong SEO program, and creating impactful video content are a few ways to remain relevant within today's consumer path to purchase.
---
Dispatch Media Group (DMG) offers tried and true techniques to build out targeted strategic campaigns, allowing you to reach both active and passive candidates where they are with an intriguing message to help attract the talent you so desperately need.
Consulting with a trusted digital specialist can make this process easier for any business. Contact DMG+ThriveHive today to help you grow your business with a strategic digital approach.
Sources: https://www.thinkwithgoogle.com/feature/path-to-purchase-search-behavior/, https://www.thinkwithgoogle.com/advertising-channels/search-video-purchase-journey/, https://www.thinkwithgoogle.com/feature/search-intent-marketing-funnel/#/