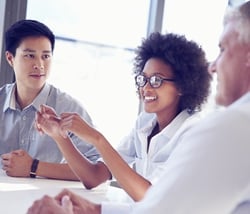 What does it take to keep your Millennials engaged in their work -- even at the entry level?
The engagement story begins with an understanding of what motivates the 18-to-34 set, progresses with how they like to work and concludes with their never-ending drive to boost their own skill sets as they see fit.
The steps below provide a primer to the Gen Y engagement dance.
Set the scene with the fundamentals of Millennial psychology. To Xers and Boomers, Millennials can sometimes come off as both uppity and insecure. "Millennials walk into the workplace with a fragile confidence," says E. James Brennan, a compensation consultant.
A little understanding can make bringing up Millennials more palatable to older managers who just put their heads down and paid their dues early in their careers.
It's important to find out what your Millennial hires believe in and align their work with these beliefs where your business permits. "Millennials are less confident in larger institutions, in the Fortune 500 and the federal government," says Asher Raphael, co-CEO of Chester, Penna.-based Power Home Remodeling Group. "Some say that Millennials don't believe in things, but that's not true."
Sell the alignment of your business with Millennials' career potential. "Millennials don't say that their employer's social mission has to align with their own; rather they ask, will this company align with my growth path?" says Jason Ma, 52, author of Young Leaders 3.0 and coach to Millennials and Gen Z.
Keep in mind that some of your youngest hires, however unrealistically, may expect to be engaged all the time.
"Millennials are drawn to speed and efficiency at all costs," says Brennan. They glory in their multi-tasking. They want constant stimulation. To find fulfillment, Millennials seek work that's fast, varied and rewarding. When that can't happen, you'll need to assiduously set expectations.
Empower Millennials to be storytellers with data. Empowered by the Internet, Millennials thrive on the data they can uncover in a matter of seconds. "We must accept that Millennials want to inform their own judgments with data they find for themselves," says Sesha Dhanyamraju, CEO of Digital Risk LLC, a mortgage processing and risk analytics firm. We must also teach them to consider the sources and quality of their data.
Here's the payoff for your business: Millennials know the market that they constitute. That's why Digital Risk looks to its own Millennial employees to research their attitudes and preferences as home borrowers. "We have identified high-potential Millennials to define what our digital strategy should be," Dhanyamraju says.
Indulge cross-functional cravings. Millennials can't stand to stand still, and they won't be pigeon-holed. But they will often accept lateral moves that enable them to acquire new and valuable experience. "The more cross-functional challenges you give Millennials, the more they thrive and ask for more," says Dhanyamraju.
The best way to respond is to empower Millennials to keep building their skills. Millennials aren't necessarily in the market for expensive graduate degrees, but they do want to boost their marketable abilities. And lucky for you, they're much more comfortable than earlier generations in finding diverse ways to get adept at their jobs, "They will leverage ways to upskill themselves, via mobile or other avenues," says Dhanyamraju.
Encourage bonding among workers. Millennials seek membership in a tribe. And perhaps more than any previous generation, their tribes are defined more by special interests, popular culture and the like, rather than by religion, political party or demography.
In response, Power Home Remodeling encourages its people to hang out together at work and off campus. Many employees choose to stay an extra hour and bond at the company's on-premises recreational facilities, Raphael says.
Create an exceptional workplace. Perhaps the best way to retain your Millennials is with a great workplace. What exactly does that look like? Well, it's a place where employees:
Feel empowered. They know what they need to do and they're able to do what needs to get done.
Have a sense of purpose. They're being useful, they're improving-- they're making life easier for customers.
Know why they show up every day. Clarity around roles and responsibilities engenders a high level of trust in the organization.
Learn more about Millennials – download our free 17-page Guide to Hiring Millennials.
For hiring solutions, please visit www.ColumbusDispatch.Jobs.
© 2016 — Monster Worldwide, Inc. All Rights Reserved. You may not copy, reproduce or distribute this article without the prior written permission of Monster Worldwide.