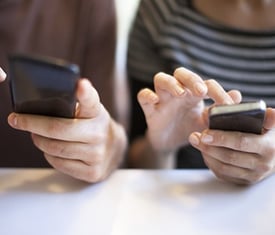 Job postings are everywhere -- on job boards, on mobile apps, served up in ads, and more. So how can your company or staffing agency maximize the power of these technologies to get the candidate's attention?
We spoke with staffing executives to learn how their recruitment strategiesare winning over today's "always on" candidates.
First things first: It's about the personal connection. Even as companies work hard to exploit every significant recruiting technology and medium, one-to-one contact remains a top differentiator.
"We use the gamut of sourcing technologies -- all the social media, traditional job boards, and so on," says Jody Rummel, vice president of human resources at staffing firm Yoh. "But the true meat of what we do -- making personal contact -- is what has been important for decades, so we err on the side of reaching out."
To hook promising talent, get personal fast. One recruitment tactic for effective use of one-to-one candidate contact is timing.
"We have substantial traffic applying directly through our web site," says Jim Caporrimo, regional vice president for greater New York City at Adecco Staffing. "Recruiters will reach out immediately for a brief phone conversation to find out what the candidate is looking for, because in staffing you can lose a candidate in minutes. Then there will be a face-to-face."
For candidates in any industry, the personal touch matters. Yes, technical talent expects recruiters to reach out to them where they live -- online.
But even software engineers still want a real-time conversation about who they would be working for.
"Technology plays a huge part in our business, but the personal touch is critical regardless of industry and who we're try to attract," says Caporrimo. "We attract candidates via social media, then pick up the phone and create a more personal experience."
Hot pursuit requires a personal touch. Technology is great for turning up potential matches. But a high-touch approach gives many staffing firms their competitive edge – especially when hiring for high-volume roles.
"There are specific corporate roles that we will recruit for regularly," says Rummel. "That requires a lot of first-hand contact. We go out and aggressively look for the people with the right skills. We know what we're looking for so it works better for us to pursue who we want."
Referrals are still a person-to-person phenomenon. Among other recruiting strategies, Yoh uses its network of candidates to find additional candidates among people they know, according to Rummel. Personal referrals confirmed by a real-time conversation help to cut through the electronic thicket of messaging and notifications.
Create a niche to match the candidates' personae. When a talent firm makes an offer that appeals to candidates looking for something different, it's a chance to segment the universe of employment arrangements and the candidates who seek them.
"People choosing to work on our platform are people who have chosen not to go the full-time route," says Patrick Petitti, CEO ofHourlyNerd, which matches highly-skilled business professionals with consulting projects. "If you believe you can work this way, you have to be either exceptionally qualified or delusional."
Build a reputation for effective candidate evaluation. If your firm develops a reputation for making good matches using the right mix of sourcing technology and high touch, your candidate pipeline will grow itself. "To be good at consulting requires a different skill set from just being a smart person," says Petitti.
To help evaluate soft skills like communications and management, HourlyNerd uses algorithmic hiring methods plus, on occasion, realtime conversation. "We make sure they're a fit, which sometimes means getting on the phone," says Petitti. "And there's almost always a candidate interview."
Different industries, different candidate expectations. Staffing firms that serve clients in multiple industries will struggle if they don't differentiate their recruiting tactics per sector. "Light industrial is more volume-based, so to recruit for these clients we may host job fairs and attract numerous people at once" while still creating a face-to-face connection, says Caporrimo.
In contrast, "experienced IT professionals already know what they want, so it may be 'Just give me the facts.' With IT professionals, time is of the essence."
© 2016 — Monster Worldwide, Inc. All Rights Reserved. You may not copy, reproduce or distribute this article without the prior written permission of Monster Worldwide.
For more information about Dispatch Media Group, or to contact a Recruitment Sales Executive, please click here and fill out the form.
For more information like this, please sign up for our blog!