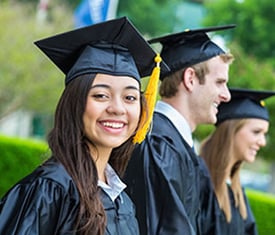 It's a good year to be graduating from college, but a tough year to be recruiting college graduates -- especially STEM college grads (science, technology, engineering and math.)
Data from Michigan State University's College Employment Research Institute shows companies of all sizes are responding by stepping up their recruitment of STEM college graduates.
The CERI survey found on-campus recruiting exploded between 2013 and 2016. Companies responded to the increased competition by:
Establishing internships and co-ops well before senior year
Recruiting throughout the entire academic year
Sponsoring campus events to gain the inside lane on student recruitment
"We have more employers on campus and they're here more often and they're here earlier," says CERI Director Phillip D. Gardner, Ph.D. "Even the small companies are more active in the internship and co-op space. They've already extended job offers to people they've known over the past three of four years rather than showing up on campus senior year."
The robust economy and low unemployment have forced companies to compete for STEM graduates, who comprise only 1% of the U.S. labor pool.
Staffing firm Robert Half has seen an uptick of hiring nationally across the finance sector, including entry-level financial analysts, staff accountants and accounts payable roles, says Regional President Katie Essman.
"There just aren't enough graduates out there to fill the roles companies are hiring for. The flow of graduates is not as good as the flow of positions," Essman says.
Small Companies Are Appealing
Small-businesses and startups may have a recruiting edge over big companies this year. Only 15% of graduates want to work for a large organization, and another 45% prefer a midsize employer, according to the Accenture Strategy 2015 U.S. College Graduate Employment Study.
"In large measure, this is an issue related to organizational culture," the Accenture report found. "New grads appear to be apprehensive about being lost in the shuffle of a large company."
Today's students value innovation, creativity and entrepreneurship, characteristics associated with small businesses and startups, Gardner says.
Know your Local Recruiting Market
While national trends are informative, local market conditions also influence graduate hiring. Organizations that lack the bandwidth to do recruitment research can reach out to a specialized staffing service, Essman says.
"The market is vastly different than it was even a year ago," she says. "Whether you do your own hiring or use a service, reach out for advice on salary trends, what people are looking for, and to find out what you can do to make your role more attractive."
Student Recruiting Tips
To compete effectively for 2016 graduates, try these tips:
1. Make every job posting an advertisement.
Job descriptions present an opportunity to sell both the position and the organization, so be descriptive about why your company is a great place to work.
"Include a paragraph on the vision of your organization at the top of the page," says Sam McIntire, founder of the Deskbrightonline learning platform. "This will orient readers to your management philosophy while emphasizing the fact that you care deeply about the business' global impact."
In the "skills" and "responsibilities" sections, highlight the soft traits your company values in outstanding employees, including apassion for your mission and enthusiasm for making a positive impact in the world, he says.
Location is an important selling point in the job description, especially for recent grads. "The temperature here in Colorado is 75 and if I were a recent grad, I'd love to leave the office at 3 and go mountain biking," Essman says. "So, a flexible schedule and a quick exit on Fridays would be fantastic to include in your job posting."
2. Include your mission on your website.
To appeal to Millennials, put a mission statement on your website emphasizing why your company is in business rather thanwhat it does, McIntire says.
Focus your employer brand messaging on the core set of values and beliefs that motivate employees to go to work every day, rather than the products and services that your organization offers.
"Google, for example, is an excellent case study in messaging done right. Rather than advertising a search engine that will help you browse the web, explains why search matters: because everyone around the world deserves access to useful information," McIntire says.
3. Create a social atmosphere.
Millennials want great employment experiences, says Judy Fisher, director of career services at Harvey Mudd College, Claremont, California. "If you have social groups that get together or identify groups based on gender or activities, that will help them," she says.
One employer that recruited at Harvey Mudd used poker to differentiate itself. "They had a poker championship once a year where they pulled people in from all their affiliates," Fisher says.
4. Send alums back to campus.
Match employees who are close in age to college career fairs where they're likely to know students; offer incentives for referring potential hires.
5. Consider less polished applicants.
Technology graduates are in short supply, but there are always some kids that don't make it past the first round of interviews due to a lack of polish and social skills, Gardner says. "Companies ignore them and they sit," he says.
Those students, when paired with the right mentor, can pick up soft skills on the job.
Another group that employers sometimes overlook: Chemistry, physics and biology majors who anticipated moving on to graduate or professional schools, but didn't make the cut.
"They're out there with no lab or pre-professional work experience and those are smart kids," Gardner says. Companies with time to devote to on-the-job training will find they make great hires.
© 2016 — Monster Worldwide, Inc. All Rights Reserved. You may not copy, reproduce or distribute this article without the prior written permission of Monster Worldwide.
For more information about Dispatch Media Group, or to contact a Recruitment Sales Executive, please click here and fill out the form.
For more information like this, please sign up for our blog!